GO TO MY ACCOUNT
To download the digital version of a manual, first go to My Account.

CLICK "DOWNLOAD"
On your My Library page, under "Downloadables," click the "Download" button that corresponds with the product.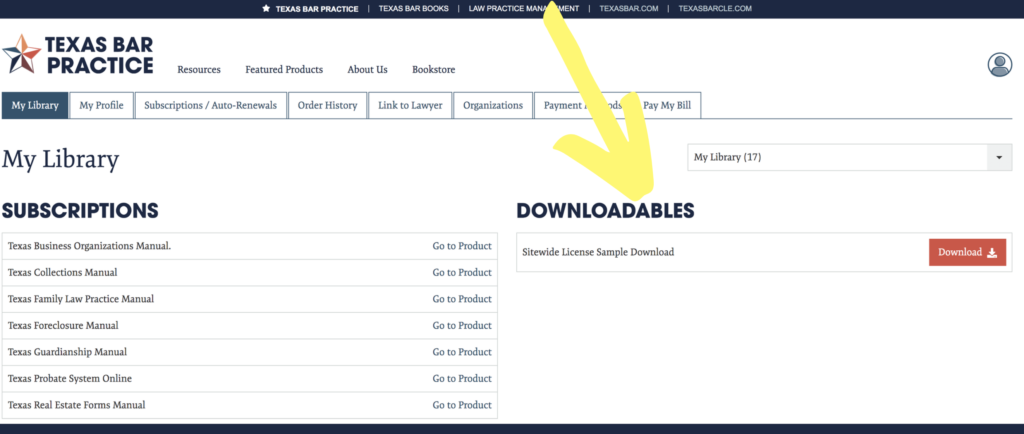 EXTRACT ZIP FILE CONTENTS
The product will download packaged in a zip file. To access all of the features of the digital download, you should extract the contents of that zip file (see how here).
MOVE THE DIGITAL DOWNLOAD WHERE YOU WANT
After extracting the contents of the zip file, you may copy or move the digital download's product-named parent folder (for example, "Texas Collections Manual 2020") and all of its contents to the desired location on your computer. The folder hierarchy and folder and file names within that parent folder, however, should not be altered, or cross-document links and other advanced features of the digital download could stop working.
THE TEXAS BAR BOOKS TOOLBAR
Many digital downloads include Word forms designed to use the Texas Bar Books toolbar. These digital downloads will include a "Navigational Toolbar" subfolder inside the product's "Forms" folder (for example, at C:\Texas Collections Manual 2020\Forms\Navigational Toolbar\).
Unless the toolbar has already been installed on your computer for a previous product, the toolbar should be manually installed using the files inside that folder. Learn how to install the toolbar here. Watch the toolbar tutorial video here.
Note that the toolbar is compatible with Word on Windows systems only.